Download Audio Bible Studies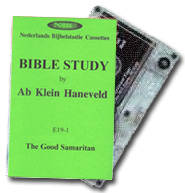 A few decennia ago, Ab Klein Haneveld spent some time in South Africa, where he gave Bible studies on various topics in the English language. All these studies will be put on this web site and are available for free download.
Clicking on the links will normally open the audio file in your default mp3 player allowing you to listen online. If you want to save the files on your hard drive, right-click on the link and choose "Save target as...".
Download Written Bible Studies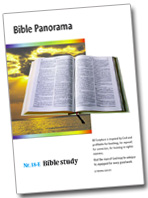 The Bible studies in written form are available in PDF format. The first Bible study listed below is written in English; the other booklets are to date only obtainable in French and German. In order to read and print these documents, you require the program Adobe Acrobat Reader. If you do not have this program, you can download your free version of Adobe Acrobat Reader by clicking on the button below.

Install the program before proceeding. If you just want to read the booklet online, double-click on the file to open the document in a new window.
To save the Bible studies to your own computer, do the following: Right-click on the Bible study (of your choice). Choose "Save target as..." (Internet Explorer) from the pop-up menu. When the "Save as" screen appears, select the location on your hard drive where you want to save the PDF file. Enter a filename then click the "Save" button. Once the PDF document has been downloaded to your computer, close your Web browser and open the PDF file from your hard drive. The PDF file should now be able to be viewed and printed using Adobe Acrobat Reader.