E08 Christ in the Prophets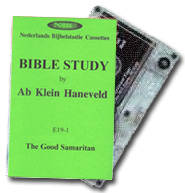 All the Scriptures speak about God's Son Jesus Christ. So also all the prophets wrote about Him. But in the Old Testament the truth regarding Him was still concealed. This is why it is so important to study the prophecies. Jesus Himself did so starting as a child (when He was twelve years old in the temple) and did not stop until His first adult appearance in public.
If we study the Scriptures, we will see that Jesus Christ went his way in obedience to God's will. He did this in the first place because He was a believer. In His resurrection He became the Firstfruit of a new creation. If we are believers, we have been united with Him. On the basis of this unity we have become a Church of Firstborns and share with Him in all spiritual blessings.